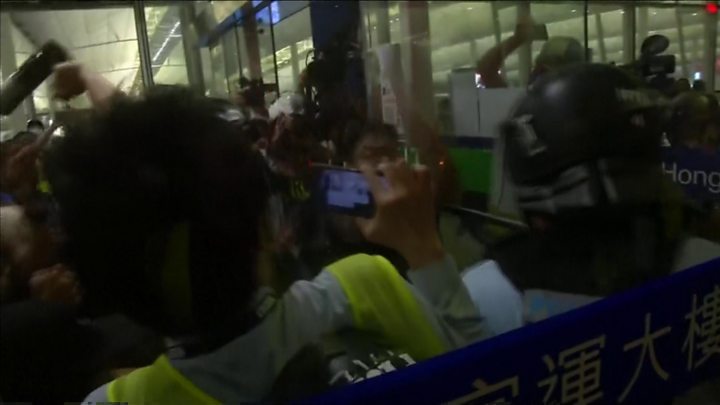 Flight check-in has been suspended at Hong Kong International Airport for a second consecutive day because of anti-government protests.
The airport, which is one of the world's busiest, has been the site of daily protests since Friday.
Videos on social media showed passengers struggling to get through demonstrators, who were sitting inside and blocking departures.
Amid tense scenes, police and protesters clashed outside the airport.
The police, wearing riot gear and brandishing truncheons, are said to have deployed pepper spray to push protesters back.
In an ugly incident, young protesters mobbed a man they suspected was an undercover policeman and zip-tied his hands together. Paramedics struggled to treat the man amid a crowd of angry protesters before he was taken to hospital.
The editor of China's Global Times newspaper said the man was one of his reporters who was merely doing his job.
Hong Kong police have admitted deploying officers disguised as anti-government protesters during the unrest in the city.
The city's leader, Carrie Lam, earlier issued a fresh warning to protesters.
Ms Lam said Hong Kong had "reached [a] dangerous situation" and that violence during protests would push it "down a path of no return".
Meanwhile, Chinese state media have published images of convoys of military police gathering in the border city of Shenzhen, says the BBC's Stephen McDonell, who is in Hong Kong.
US President Donald Trump said on Twitter that US intelligence had informed him of a deployment by "troops", adding: "Everyone should be calm and safe."
Speaking earlier to reporters, he described the situation as "tricky" and said he hoped it would end peacefully.
"I hope it works out for everybody, including China. I hope it works out peacefully. I hope nobody gets hurt. I hope nobody gets killed," he said.
The official Xinhua news agency said "mobsters" had created "an atmosphere of terror" on Hong Kong's streets.
Mass unrest has rocked Hong Kong for 10 weeks and shows no signs of abating.
---
Fear of infiltrators
The BBC's Jonathan Head reports from Hong Kong airport
The activists are on edge knowing that China has vowed to punish them and that riot police are just outside the terminal.
Fear of infiltrators is everywhere. Suspected undercover officers were mobbed and sometimes beaten. An attempt by a police delegation to get them out turned into a furious confrontation.
There were cheers as protesters disabled the airport security cameras. But after this, what next?
This protest movement has proved nimble and inventive, capable of bringing one of Asia's biggest transport hubs to a standstill. But the Hong Kong government has ignored their demands and at some point, surely, it will try to drive them out.
---
What is happening at the airport?
Despite the latest warnings from officials, crowds gathered at the airport again on Tuesday.
Images from inside appeared to show protesters using luggage trolleys to build barriers and some travellers becoming distressed and angered at the disruption.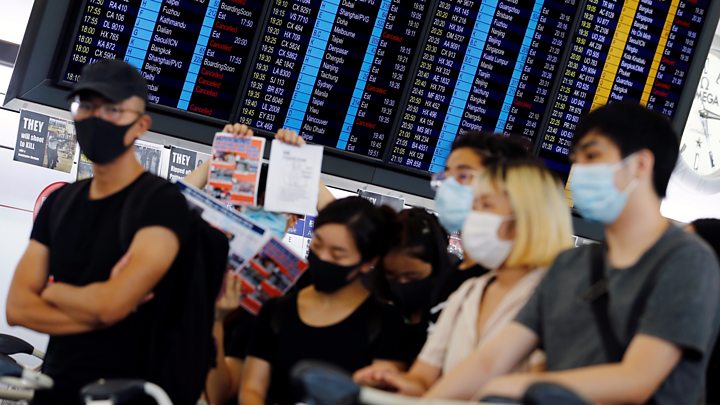 Hong Kong airport officials then announced that all check-ins were suspended from 16: 30 local time (10: 30 GMT).
In a statement on the airport's website, passengers were advised to leave the terminal buildings "as soon as possible".
It is unclear to what extent arrivals on Tuesday will be affected.
Monday's disruption had already led to hundreds of flight cancellations at the airport – one of the busiest international transport hubs.
Some airlines, including flagship airline Cathay Pacific, cancelled dozens of flights on Tuesday before the latest closures were announced.
Some protesters held signs apologising to passengers for the inconvenience caused by their demonstrations. Others wore eye bandages in solidarity with an injured protester and brandished slogans criticising the police's deepening crackdown.
Doctors at Hong Kong's Queen Elizabeth Hospital also staged a small sit-in protest opposing police violence on Tuesday, local media report.
Protests started in June in response to a proposed extradition bill, which has now been suspended, but have evolved into a more demanding pro-democracy movement.
They are being fuelled by fears that the freedoms Hong Kong enjoys as a special administrative region of China are being eroded.
What do officials say?
On Tuesday the UN High Commissioner for Human Rights, Michelle Bachelet, urged authorities to exercise restraint during protests – amid criticism of the police response.
"Officials can be seen firing tear gas canisters into crowded, enclosed areas and directly at individual protesters on multiple occasions, creating a considerable risk of death or serious injury," she said in a statement that called for an investigation.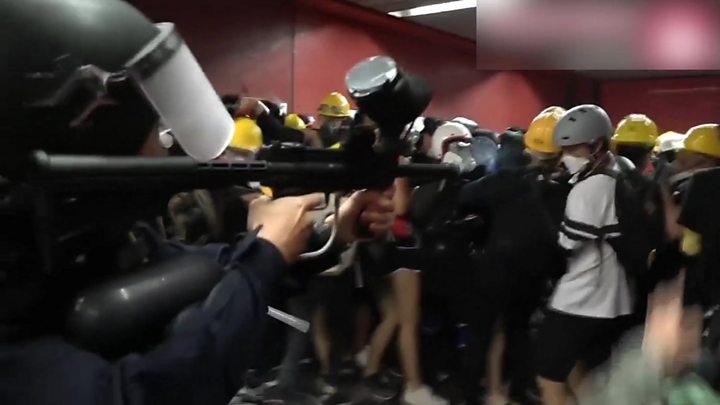 The comments come after ugly footage emerged of confrontations on Sunday. A number of people, including a police officer, were injured in the clashes.
Chief Executive Carrie Lam addressed the latest violence at a hostile press conference on Tuesday.
"Take a minute to think, look at our city, our home – do you all really want to see it pushed into an abyss?" she said, at times appearing close to tears.
Her comments echoed similar remarks by an official from the Chinese Liaison Office in Hong Kong, who on Monday said the city would slide "into a bottomless abyss if the terror atrocities are allowed to continue".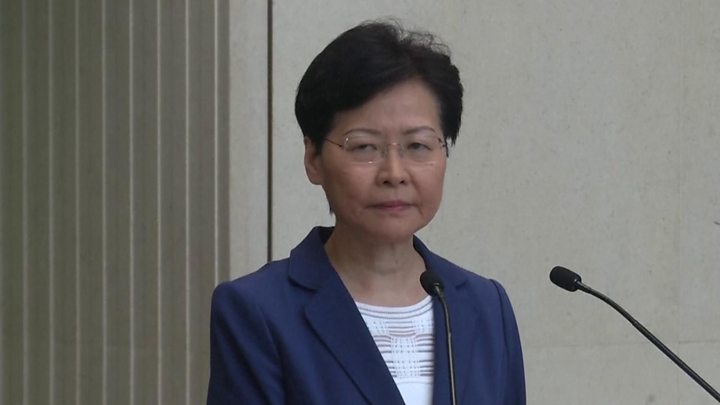 Local journalists unleashed a barrage of questions in Cantonese and English toward Ms Lam, many condemning her response to the unrest.
She told members of the media she was "heartbroken" by reports of serious injuries at last weekend's protests, but appeared to defend the police from claims they used disproportionate force, saying they were acting under "extremely difficult circumstances".
---
Are you at Hong Kong airport? Email haveyoursay@bbc.co.uk
Please include a contact number if you are willing to speak to a BBC journalist. You can also contact us in the following ways: