What's going on in the Lords?

MPs may pass this bill but it would still need to get through the House of Lords, where a strenuous filibustering effort is under way to stop a business motion being passed.
Lords can carry on talking in
today's session until 10: 00 BST on Friday.
At that point, if the business motion has
not passed, it falls.
This would probably effectively kill the bill.
However, the opposition will be trying to find a way to stop this happening.
Trump: Boris Johnson is going to be OK
BBC Politics tweets..
Rebel Tory MPs 'will not be allowed to return'
Boris Johnson has given "a guarantee" that the rebels who had the Tory whip removed for voting against the government will not be able to return, according to a Conservative MP.
After the PM addressed the 1922 Committee of backbench Tory MPs, Daniel Kawczynski said: "I pleaded with the prime minister not to restore the whip to any Conservative member of Parliament who has undermined him in these negotiations with the European Union and he's given me an assurance that the whip will not be restored.
"These people cannot stand for the Conservative Party again."
Pressed on what the PM said to him, Mr Kawczynski said: "He gave me a guarantee."
Watch: Tories in relentless chase to be the Brexit Party, says Soames
Some MPs have no intention of respecting referendum, says Tory MP

House of Commons
Parliament
Tory MP Andrew Percy says there is no point in seeking an extension because MPs who seek one do not really want to leave the EU at all.
"I will not support any amendment that seeks a further extension to this because I know what's going on here – and my constituents know what's going on," the Brigg and Goole MP tells the Commons.
"Play it long, play for time, say you respect the result – they have no intention of respecting the result.
"They didn't respect it in March of this year, they didn't in April, they're not going to in 31 October and you can sure as damn tell they ain't going to on January 31 either.
Corbyn 'frit and chicken', says PM
PA MediaCopyright: PA Media
Boris Johnson has accused Jeremy Corbyn of being "frit and chicken" over the chance of getting a general election.
After addressing the 1922 Committee of backbench Tory MPs, Mr Johnson told reporters: "I also made it clear that I thought that if Jeremy Corbyn was going to effectively hand over the prerogative of the British to decide how long this country can remain in the EU to the EU, then that was a question that really should be adjudicated by the British people themselves.
"I'm surprised that he seems to be frit and chicken."
EU praying Brexit will go away, says Tory MP

House of Commons
Parliament
Tory MP Sir Christopher Chope says there is no point asking the EU for an extension because it will never offer the UK the terms it wants.
"The EU has never accepted Brexit," he says. "The EU and its institutions do not want a divorce.
"The EU is just hoping and praying Brexit will go away and we will stay in the EU – so their motivation is to put forward unacceptable and unreasonable terms, to offer us only a punishment deal."
Richard Graham explains his amendment
Meanwhile outside Tory HQ
Guardian political correspondent tweets…
Cash criticises the bill – 'It's a disgrace'
BBCCopyright: BBC
With MPs debating possible amendments to the Bill, Brexiteer Sir Bill Cash is now attacking the legislation in its entirety.
"This places an obligation, a duty on the prime minister… to carry out this act [seeking an extension to the Brexit deadline] of political suicide.
"I really think the members opposite should reflect on the full nature of the subservience and subjugation and vassalage that they're putting the United Kingdom in.
"It is a total and utter disgrace."
Food prices could increase in no-deal exit
The BBC's personal finance correspondent Simon Gompertz is tweeting…
No-deal recession less severe now, says Bank of England boss
PA MediaCopyright: PA Media
As MPs debate legislation that would seek to block a no-deal exit from the EU, the Bank of England Governor Mark Carney has said a no-deal recession would probably see the economy shrink by less than previously estimated.
Mr Carney told MPs that preparations made since the central bank's last estimate in November have softened its worst-case scenario.
A disorderly Brexit will now probably see the economy shrink by 5.5% rather than the 8% forecast before.
He said more time to prepare could cut the damage further.
Better border preparations, a temporary deal for financial services companies to access UK markets, and a deal on the market for financial insurance products have all been put in place since November, he told the Treasury Select Committee.
"The impact of that has been to reduce the worst case scenario."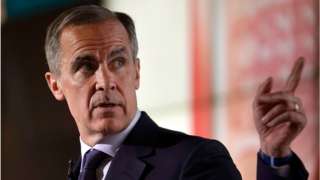 Preparations made since the central bank's last estimate has softened its worst-case scenario.
Who voted against their party on the Bill?
The division list showed Conservative Dame Caroline Spelman voted for the Bill at second reading.
She was joined by almost all of the newly Independent MPs who lost the Tory whip on Tuesday in the ayes lobby.
Of the 300 who voted against the Bill, 285 were Conservatives, 10 DUP, three Independent and two Labour MPs – Kate Hoey and John Mann.
Labour MP proposes amendment

House of Commons
Parliament
Labour's Stephen Kinnock now speaks in favour of amendment six, seven and new clause one.
He tells MPs that his amendments "aim to set a purpose" for extending the Brexit date of 31 October.
He says the purpose should be to pass "something similar to the Withdrawal Agreement Bill drafted in May 2019 as a result of the cross-party talks".
In May Labour and the Conservatives took part in talks to find a way through the Brexit impasse.
Mr Kinnock adds that regardless of whether his amendments are supported he will be voting for the bill.
'It's time for an election', says Tory MP
Jake Berry, who voted to Remain in 2016, is calling for an election, claiming it is the only way to solve the Brexit deadlock.
Spelman 'might not lose the Tory whip'
Daily Telegraph political editor tweets…
Graham: Parliament must have vote on no deal
The Tory MP for Gloucester – Richard Graham – says his "short" amendment ensures Parliament has a vote on a no-deal.
"When constituents ask us, will this house have the final say before we go to a no-deal exit from the European Union, my answer is that I believe that we should have a chance to vote once more and this [amendment] will provide it," Mr Graham says.
Watch: The moment the government was defeated (again)
Former Tory chairman voted against the government
FT Whitehall correspondent tweets…
Dame Caroline Spelman didn't rebel last night, by the way.